The 3460 2D THERMO HiTESTER utilizes the world¡¯s first 64-element thermopile array sensor.
Now you can take simultaneous 2-dimensional radiative temperature measurements and display results in 64 on-screen boxes.
This advanced functionality makes measuring temperature distribution as easy as using a digital camera, and extends the applications for temperature measurement practically without limit.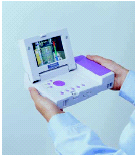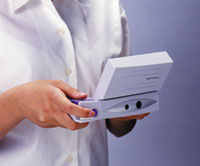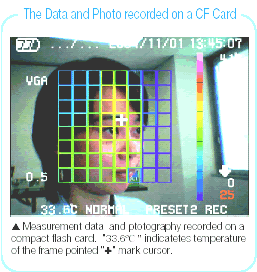 The 3460 2D THERMO HiTESTER performs 2-dimensional temperature measurement with a newly developed thermopile array sensor* (8 x 8 elements), dividing the measured part of the visual image area into 64 boxes and displaying the temperature with a high-speed response of approximately 0.2 seconds.
Basic functionality for parameters such as temperature measurement accuracy and radiation ratio can be specified with the same convenience as for thermography (measurement wavelength 8 to 16 um, comparable to non-cooled thermography, but at about 1/10 the cost of thermography.
*Thermopile array sensor: A device that miniaturizes and arranges multiple infrared sensors (thermopiles), each of which contains multiple thermocouples connected in series.
Measurement Data Recorded on a Compact Flash Card and Edited on a Personal Computer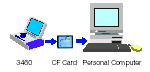 A Compact Flash Card slot comes standard in the instrument. Measurement data can be recorded and accumulated along with image data on this convenient storage media, making it possible to simultaneously record an image in JPEG format and measurement data in CSV format. Data can be easily viewed and edited on a personal computer or PDA, without any other special software. (A card adapter is required.)
Video Output Allows You to Make Video Recordings of Temperature Changes


The instrument is small and lightweight, with a 3.8 inch color TFT liquid crystal screen that is easy to see, even outdoors, making it as portable as a digital camera. It also comes with a CMOS camera, which can simultaneously display a temperature image and optical image on the same screen. An NTSC video terminal enables video recording.
Automatic, Continuous Measurement Enables Logging Measurement (Interval Recording)
Automatic, continuous recording at a single location is possible by mounting the 3460 with a tripod screw and utilizing the logging function.
Selectable Screen Modes for Different Scenarios
The 3460 provides three selectable screen display modes: "Visual Image", "64-Point Mosaic Image", and "64-Point Temperature Box Display". Setup, measurement, and recording operation are easy. When a temperature alarm is set up in advance, measurement values flash at locations where there are abnormal temperatures.

2-Dimensional Visualization Improves Work Efficiency
Greatly increased efficiency of temperature distribution measurement allows dramatic improvements in activities such as maintenance, research and development, and quality assurance.
Instantaneous Detection of Temperature Abnormalities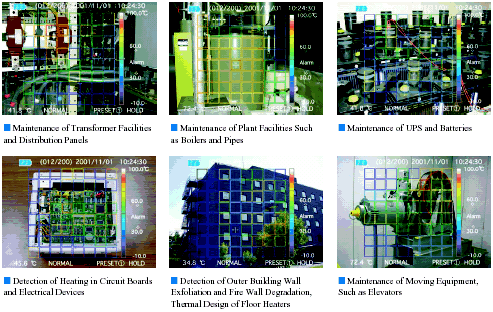 Field of View and Measurement Range of Visual Images
The screen angle of the imaging area is 50 deg 37.5, and the resolution of the temperature measurement area (the screen angle of one measurement box) is 3.1 deg. At a distance of 10 meters, the image range measures 9.3 m x 6.8 m, and the range contained with all 64 temperature measurement boxes is 4.4 m x 4.4 m.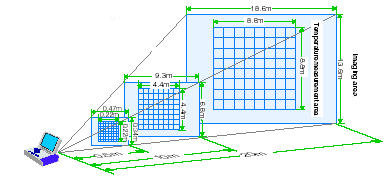 Because the 3460¡¯s two optical axes are parallel, parallax (the displacement between the visual image optical axis and the optical axis of the temperature sensor unit) is independent of the distance from the measurement target, and is 26 mm in the horizontal direction and 0 mm in the vertical direction.
By specifying the measurement object as 0.5mm, 1.0m, or 2.0m or above in the settings, the influence of parallax can almost be completely disregarded